Groundworks in Northamptonshire
Carrying out significant groundwork projects on your own premises can seem daunting, especially if you haven't got the equipment to hand to do so. The idea of having to move great quantities of earth with a shovel might put you off the entire task, and with landscaping and home DIY now so common and businesses forever expanding and growing, one way or another, the work needs to be done! Fortunately, here at KER Plant, our groundworks services are the ideal solution for all your requirements.
Services For Any Task
At KER, we're all about providing a complete, all-in-one solution, so if you've already read about our skip hire, aggregates and recycling services you'll be pleased to know we're just as experienced and quality focused when it comes to groundworks.
Wherever you are based in Northamptonshire make KER Plant your first port of call for local, high quality groundworks services.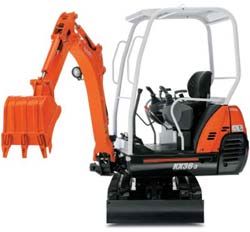 Machinery and Labour for your Groundworks Projects
Our range of available machinery means that no matter how big or small your project we can provide an effective means of getting it done quickly and efficiently. Having excavation and earth moving equipment by your side during your project will prove invaluable when otherwise difficult and time-consuming tasks take mere minutes. As well as the machinery itself, we can supply general labour and licensed plant operators who'll work to your requirements and help deal with the removal and disposal of your waste.
Servicing Northamptonshire
Whether you're building a home extension or conservatory or are preparing your commercial premises for development or landscaping, KER Plant can help. We carry out work throughout Northampton and Kettering as well as areas further afield in Northamptonshire, and we're always happy to answer your questions and queries.
Give us a call today to find out more, or to have one of our staff get in touch, please visit our contact page or call 01604 780180.
Mini-Digger Features

Engine start safety system on the left console
Weight-adjustable semi suspension seat
Swivel lock system
Travel lock system
950mm arm
ROPS (Roll-Over Protective Structure, ISO3471)
Seatbelt
Hydraulic pilot control levers with wrist rests
Switch & harness for beacon light